Gilboa Historical Society Newsletter
PICTURES OF OLD GILBOA
Richard Lewis, our Town Historian, has received a set of 8 x 10 pictures of many of the original buildings in the village. We have archived high resolution (.tif) scans of all of the photographs, and have uploaded medium resolution (.jpeg) and thumbnail (.gif) files. The pictures on the linked pages are low resolution thumbnails, and you can click on any thumbnail to see the larger, medium resolution .jpeg. Please use the back arrow of your browser to return to this page.
These pictures were used for establishing the price placed on each property in the 1920s when the village gave way to the New York City reservoir. They were numbered by the photographer according to the tax map divisions of that time. The map is shown below, but please click here for a .pdf copy that you can print at a more legible size.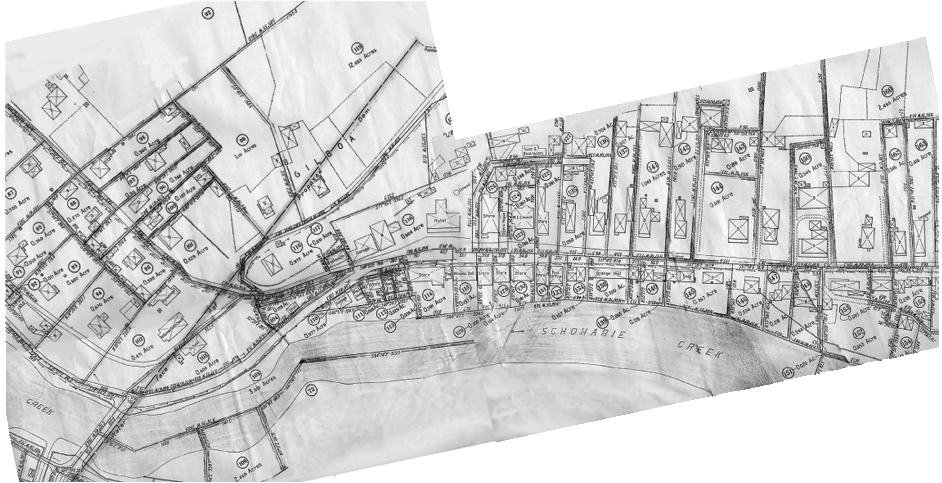 The left hand side of the map is downstream, and the dark line running from the top-middle of the map to the lower left is the line of the proposed dam. You will have difficulty reading many of the tax numbers on the screen because the map itself is large, but the numbers on the left start in the 80s and progress up to the 160s on the right. The pictures of all buildings on a property are labelled with the tax number of the property — there are three buildings on that lot. We have therefore added two digits to the right of the plot number to identify multiple buildings and views. All pictures of pertaining to property 145 will start as 14501 and be numbered sequentially. In this case, the three buildings on the property are numbered 14501, 14502, and 14503.
We have been trying to locate pictures of the missing properties to fill out Richard's set; and we have also been [slowly] correlating these property numbers with those that appear in the census of the 1910 and 1920. With those caveats, we hope you enjoy this presentation.
Click here for a copy of the 1920 village tax map.
The Newsletter is published by the first of each March, June, and September and presents local history of the Western Catskills in the State of New York.

It is automatically mailed to members of the Gilboa Historical Society and on request to residents and property owners in the towns of Gilboa and Conesville. We would love to have you join our society and receive the physical Newsletter in this way — please click here for a membership application.

An electronic subscription to the Newsletter is free (please send your email address); and electronic downloads of our materials on this web site is free provided it is for non-commercial use and for your personal enjoyment only.
Copyright © 2008
gilboahome.com
September 4, 2010